In een film van Woody Allen zien we een eenvoudig straatbeeld in New York. Het lijkt een tussenshot, bedoeld om van de ene scène naar de volgende te gaan en continuïteit te bewaren. De dialoog die we horen, lijkt buiten beeld plaats te vinden. Maar dan blijft de camera langer filmen dan verwacht. De breuk tussen geluid en beeld valt plots weg, wanneer duidelijk wordt dat deze dialoog gevoerd wordt door twee personages die reeds van ver kwamen aanlopen. Midden in het beeld, maar toch off-screen. Alles wat buiten beeld was, lijkt nu plots opnieuw tot de film te kunnen behoren.
In a Woody Allen film we see a simple street scene in New York. It looks like a continuity shot, just made to provide a link between the previous and the next scene. The dialogue we hear seems to be taking place off screen. But the camera keeps on filming longer than we expect. The disjunction between image and sound suddenly vanishes when it turns out that the dialogue is between two people who have approached from a considerable distance. They are in the centre of the picture but nonetheless off-screen. Everything that was off-screen now suddenly appears to belong to the film. A series of drawings returns the scene to the storyboard. The location is based on film images of the same place but 42 years later. What if a voice should again pop up, not speaking to the viewer but to somebody who is also off screen? What might happen in the margins of the work, should the work also continue off screen?
Een reeks tekeningen schetst deze scène opnieuw tot een storyboard. Dit decor is gebaseerd op filmbeelden van dezelfde locatie, maar dan 42 jaar later. Wat als er weer een stem opduikt die zich niet richt tot de kijker, maar tot iemand die zich ook buiten het kader bevindt? Wat zou er in de marges van het werk kunnen gebeuren, mocht het werk ook nog buiten het beeld verder gaan?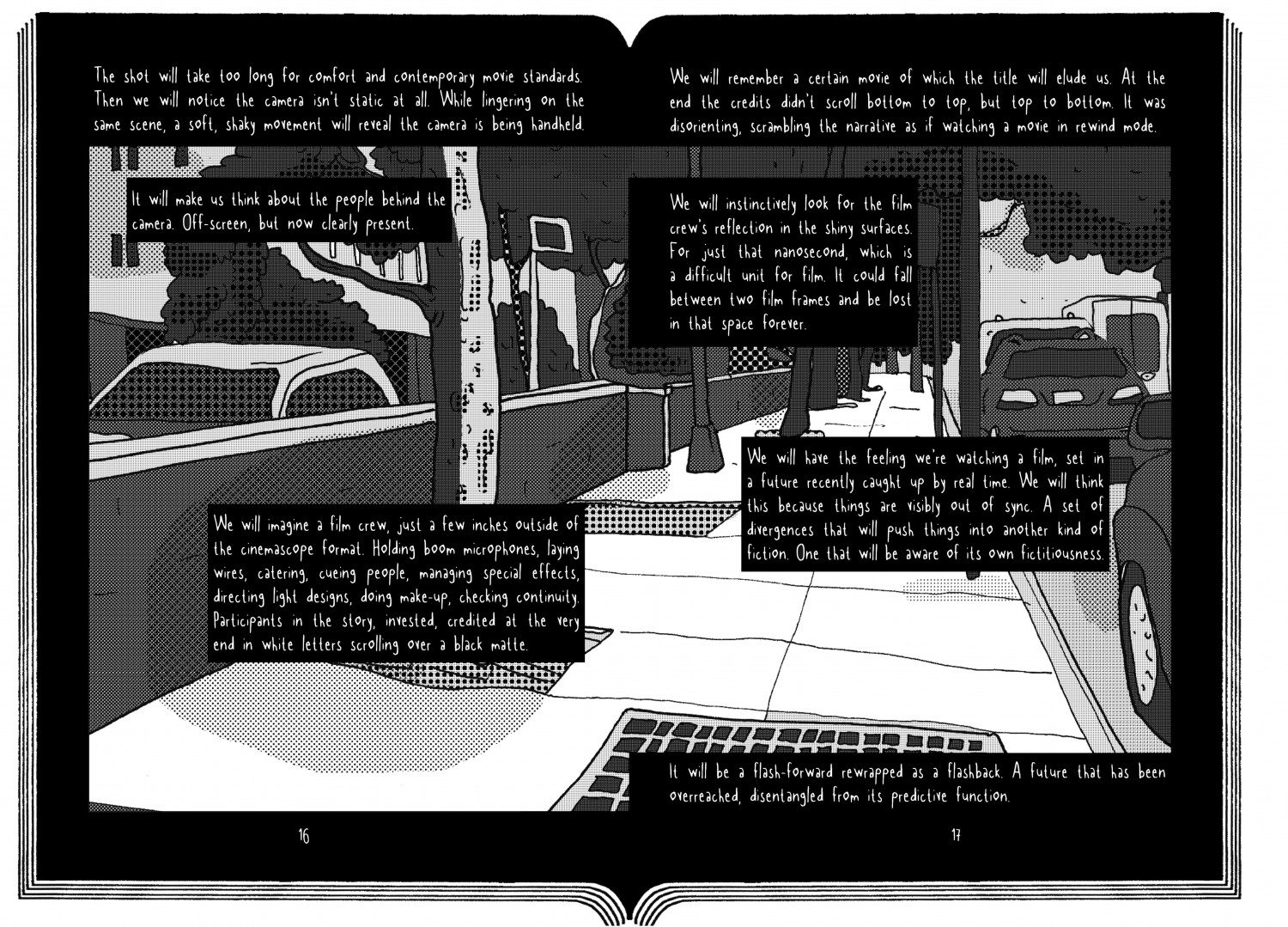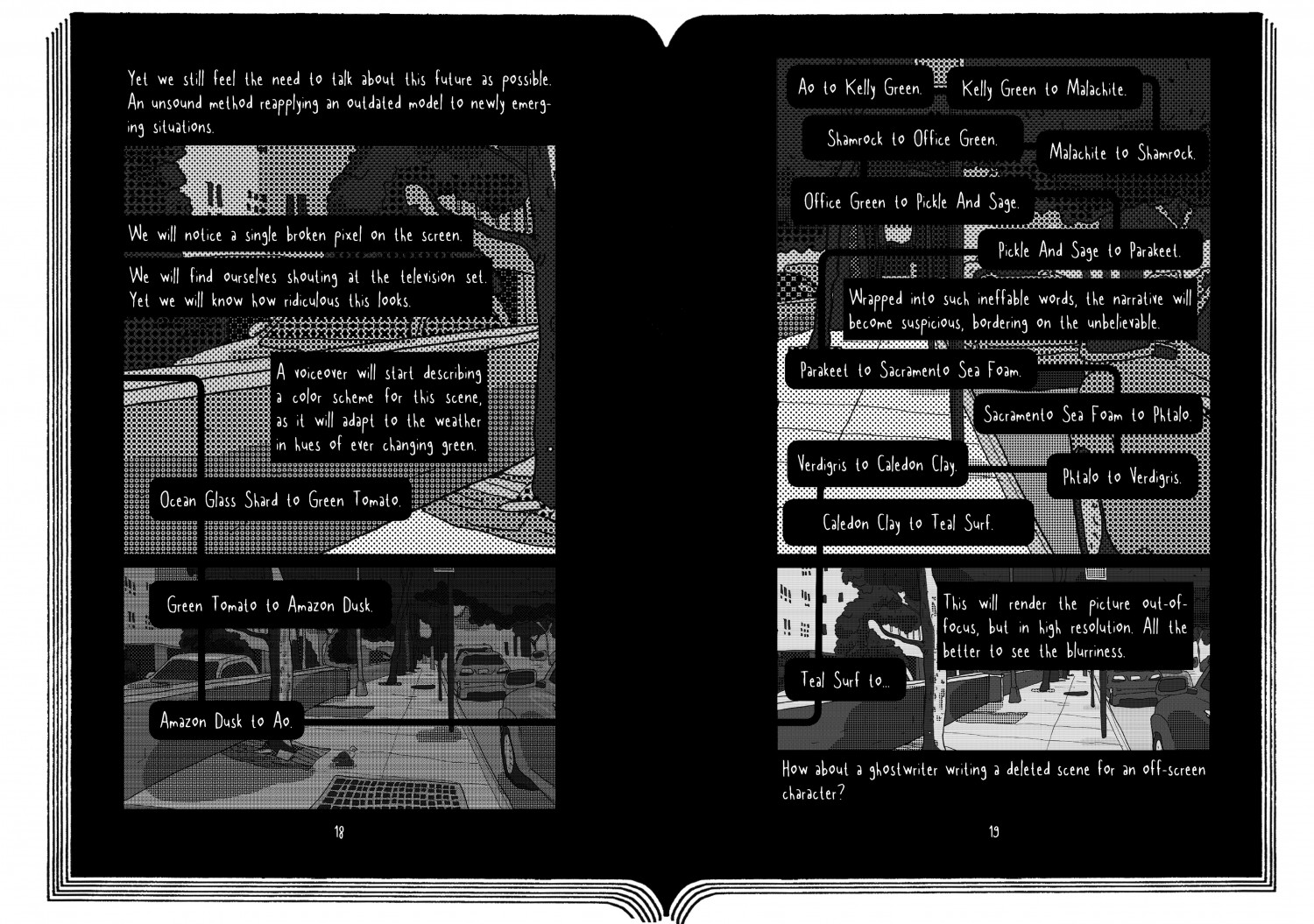 +++
Peter Lemmens
Zijn werk ontwikkelt zich naast en in relatie tot anderen. Het onderzoekt oponthouden, strategische uitwegen en afleidingen waar één ding al overgaat in iets anders terwijl het nog even zichzelf blijft. Het is lezen terwijl je naar muziek luistert. Het zoekt deze gelijktijdigheden op als een interface voor discussie, conflict en ontwikkeling.
www.diversions.be
peterlemmenspeter@gmail.com
Karina Beumer
is beeldend kunstenaar. Haar werk ontstaat vanuit een honger naar de absurde poëtische hoeken van de verbeeldende geest. Communicatie – in de vorm van interviews, citaten, toevallige opnames, liedjes, voice-overs, ondertitels of spraak-bubbels – zijn cruciale ingrediënten in haar tekeningen, publicaties en video's.
www.karinabeumer.nl
karinabeumer@hotmail.com
Peter en Karina werken aan een stripboek waarin onder andere deze scène wordt opgenomen. Het verhaal, in de vorm van een raamvertelling, is een combinatie van fanfiction, een bezoek aan een videostore, verschillende referenties aan (ontbrekende) scènes en een verzameling cliffhangers.